RIWA – Determination of spot weld quality during the welding process
The ultrasonic inspection system RIWA is adapted to the welding electrode and enables the quality check of the welding point during the welding process. The software allows the analysis and recording of the size of the measured welding points. By integrating the RIWA system into the welding control, the user receives information about the quality of the welding point immediately after the welding process has been completed and can intervene as required. The welding points are displayed in the RIWA software in red, yellow or green – depending on the rating. The process stability can be derived very easily from the recorded data.
How the RIWA system is used you can see here.

(watch full video (100 MB)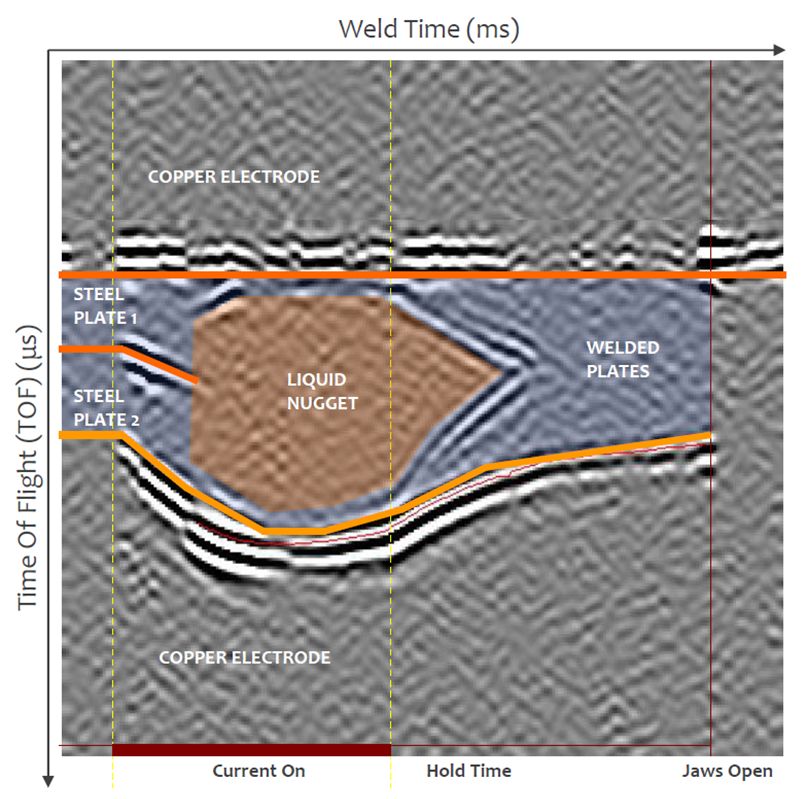 Specifications are subject to change without notice. For further information please contact us directly.

Hardware:
PC
electronic box in laptop size
matrix array with coax cable
In order to ensure the synchronization with the welding process the hardware is connected to the welding controller. The RIWA system can be integrated into the plant control system, to stop the production in case of defective welds. The system does not require constant monitoring, because it can automatically monitor the welding process over a long period. The RIWA system can also be integrated into the local network to independently inform the responsible person about problems.
Applications:
metal: steel, high-hardness steel, dual-phase steel
metal thicknesses: 0.6 mm to 2.5 mm (single sheet thickness)
coatings: uncoated, heat-treated, galvanized
data storage: software archives welding point data for subsequent reporting and analysis